The old adage goes that "you should not judge a book by its cover" and though it is a virtuous sentiment it is not one that is typically followed. Welcome to day Thirty One of my 31 Days of First Impressions Challenge! In this challenge I will be reading the first entry or chapter of a different serial (or web fiction) and then give my first impressions on them be they good or bad. In short: I will be judging a book by its cover.
For my last entry *confetti* I will read Train Wreck, The Wrath of Mom by jeanne.
Site Design: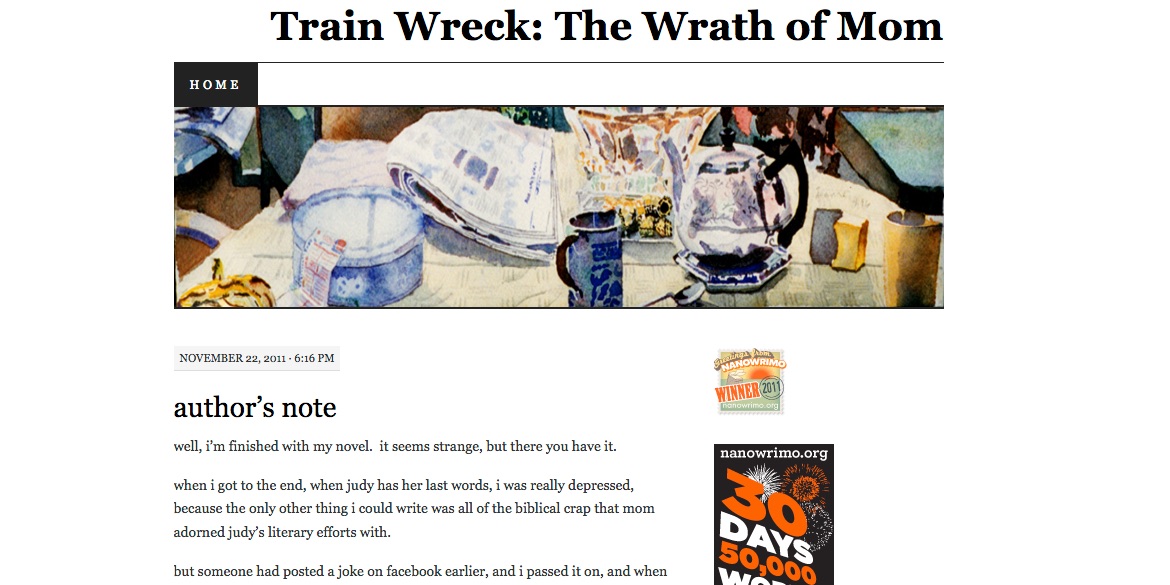 The website is pretty simple and feels a little dated (this is fair given that the serial was written years ago). The header image is a cropped impressionist painting that is very aesthetically pleasing, the navigation, however, was not intuitive. Had I not been provided a direct link to the first chapter of this serial by the Fiona Gregory from the Web Fiction Guide I am not sure that I would have found it.
The author touts a couple of awards from nanowrimo.org which is earnestly impressive. If I am to be completely honest, the presence of these awards added a credibility to the writing and they did influence my expectations and perceptions.
The Hook:
"Judy sat at the kitchen table, cleaning weed out of a bag for her morning joint. She dusted off her fingers and reached for her coffee, but it'd gone cold while she was seeding." –Train Wreck: The wrath of Mom, Day One.
Throughout this challenge I have ranted a lot about a hook needing urgency. I am sure you are as tired of reading about that as I am about writing about it. With that said, opening a story with drug preparation is just as good. Drugs are inherently interesting. I am hooked (heh).
Side note: She must have been seeding for a long time…
The Chapter:
The chapter does in one go in what I tried to do in two: tell the same story with different perspectives. The prose was witty and had a dry, if not dark, humor to it that felt very refreshing. This humor is enhanced when the story is told through the eyes of the titular character: Mom. The perspectives her children have of her are very poor. Mom is a petty, nagging, and manipulative individual looking to actively ruin the lives of her children. Mom, however, sees herself as a caring woman looking to feel nostalgic with her brood. So far it is up to the reader to decipher the truth.
The pacing of the chapter is quick and never boring. A scene sticks around just long enough for the information about the character and their perception to be told before moving on. At no point did I find myself wandering and considering how burnt out I am from this challenge should be a testament to its entertainment value.
The Verdict:
I want to continue reading this, and it has just occurred to me that with this challenge complete I CAN! This kind of story is absolutely up my alley and I look forward to reading it.
Train Wreck: The Wrath of Mom can be found at https://killmom.wordpress.com/ and you can vote for it on the Top Web Fiction list here.
And with that I am officially done with my 31 day challenge!
Join me next week on Monday (June 5th) as I will be posting an article on The Top 7 Impressions I had while doing this challenge and find out which one I thought was the best! In the meantime check out my own serial:
🙂 Thank you for reading! 🙂