Tired of all of that hope and positivity in your horoscopes?
The Nihilist's Horoscope is exclusively available to subscribers of M.P. Fitzgerald's weekly newsletter, but is 100% free!
We all know there is no future. So get some nihilism in your horoscopes, it's like chocolate and peanut butter… Only bleak, irreverent, and funny.
Excerpt: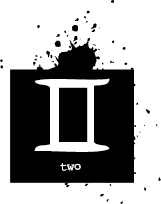 READ MORE
You have always known that you were not special, Two, you always knew that you were not unique. Your twin was physical proof of that. This was always comforting though. While the rest of the world felt the terrible isolation that accompanies being distinct and different, you have taken solace in knowing that right beside you, there was another. Another just like you, enduring the harshness of life just like you.
But then, Two, you will find the cocaine snorted in your kitchen. Your cocaine. ALL OF THE COCAINE! It won't simply be in the kitchen. No, Two, it will lead from your kitchen. Its wasted, and expensive trail leading to your bedroom. You will find that they did not even bother to shut the door. Inside you will find your twin, with the same blemishes that curse your own naked body on top of your spouse. Your spouse will look surprised, embarrassed even. They will call you by your twin's name. Your spouse made a mistake in identity, but your twin will be smiling. That smile will fade, and they will be as surprised as you to find that you have been carrying a five iron.
This week there will be two. Next week, there will only be one. Next week, you will be special.
COLLAPSE