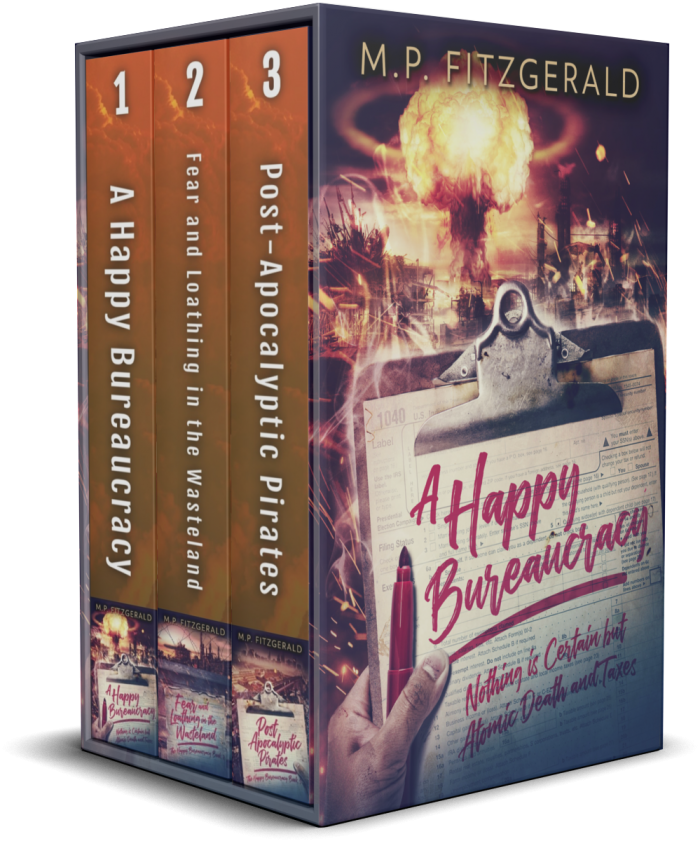 The first three books in the darkly funny and unhinged A Happy Bureaucracy Series: A Happy Bureaucracy, Fear and Loathing in the Wasteland, and Post-Apocalyptic Pirates!
Nukes Ended the world. Now all that's left is taxes.
No big deal or anything.
Arthur thinks an abacus is art. Rabia carries enough drugs with her to make Hunter S. Thompson nervous. He wants to talk about your deductibles. She is behind you with a knife... They have a wasteland to audit, slaves to be freed, and mad post-apocalyptic warlords to topple. They have the equipment, and more than enough weapons, but can they work as a team to make it happen? In the face of radiation, roving gangs, and starvation, can anyone?
Brazil by way of Mad Max, M.P. Fitzgerald's The Happy Bureaucracy Series is a bleak and hilarious look at the wheels of a system that keep turning even when nothing else is left.
What Amazon reviewers are saying:
★★★★★- 'This is absolutely the funniest dystopian novel I have ever read.'
★★★★★- 'A gonzo action-packed, dark-humored thrill ride that keeps you craving more madness after every page.'
★★★★★- 'One part Fallout equal parts Mad Max and a pinch of Fear and Loathing with a lot of entertaining dark humor.'
★★★★★- 'Filled with violence, lots of drinking, and crazy lines that will buzz through your head when you're in bed at 3am, this adventure is the dark comical version of Mad Max.'
★★★★★- 'I strongly feel that this book should be read for the context of this sentence if for no other reason: "His hideous wattle blew in the wind". I was disgusted and deeply amused at the same time.'
★★★★- 'Buy it, read it. Great fun, totally original and different take on the world after the apocalypse. I can't wait to read the follow on adventures of the characters.'
Buy the box set and start a series you won't want to put down!
Published:
August 1, 2020
Cover Artists:
Genres: