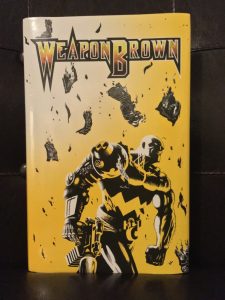 If you have not yet had the chance to read Jason Yungbluth's quintessential fever dream masterpiece "Weapon Brown" you are frankly doing yourself a disservice. Further, if you are going to read it, get the Omega Edition (there are only a hundred left!).
Weapon Brown is the unholy amalgamation of the characters from all of your favorite newspaper funnies pitted against each-other in a post nuclear apocalypse. It is superior to my own "Peanuts" parody (Kick The Football, Chuck) in both scope, and written quality. It stars the titular Weapon Brown, a grown Charlie Brown turned cyborg mercenary as he wanders the wastes and finds himself pursued by "The Syndicate". The sheer amount of over the top violence in the comic is not simply balanced, but rather enhanced by the incredible wit strewn across the panels beside it. You can (and should) read it for free online on Jason's website but I implore you to purchase it after you have read it.
The Omega Edition is beautifully produced. It is hard bound with a bright, and iconic dust jacket, weighs in at 416 quality printed pages and is only about $35.00. This price goes very far as it also comes signed and numbered (it is a limited edition print), is annotated, comes with pin-ups and a refrigerator magnet, and a separate Weapon Brown sketchbook. This is good for people who are already fans of the comic series, but why should the uninitiated buy it?
Weapon Brown is simply better in your hands. I know this sounds pretentious, bare with me. I am not making the common hipster Luddite argument against digital media. I love Digital media. I read Weapon brown in it's entirety on whatisdeepfried.com and absolutely loved it. The navigation between pages is intuitive, and the artwork with its dark black and white contrasts looked great in a browser, but it looks better on page. The first reason for this is that the page's layout is setup as a traditional 8 x 11 comic page. Unless you have a really high resolution on your screen, this means that you do not see the whole page at a glance, which is a bummer because these pages and their panels are lovingly laid out.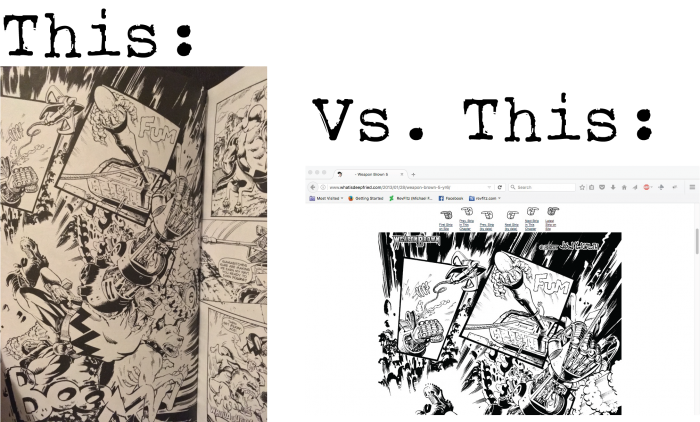 The page itself is as much of a piece of art as the panels that reside in it (a fan recently framed them). The second reason for this is that the characters, ranging from comic strip icons like Snoopy to Popeye, lived on paper. The madness that is this parody clicks better when you see these old and beloved characters murder the shit out of each-other on the dry and stark white paper that they were syndicated on for so long. Paper holds the concept better.
Beyond the high quality of print, and the reasons that I believe you should read it as a physical copy, the author deserves your money. Jason Yungbluth churns out quality work. So much of the internet is free, and so much of it is utter garbage. Weapon Brown is something the internet needs more of and frankly, should absolutely be valued in dollars.

Confused about the entire concept of Weapon Brown? Here is Harlen Elison's "A Boy and His Dog" and "Race for your Life, Charlie Brown" running side by side simultaneously.